Skye at Crafting a Green World has linked to some of my posts for the site's first Carnival of Green Crafts . . . it's just the right time of year for a carnival to come to town, so take a look, and thanks, Skye.
This week's Project Runway challenge involved "green" fabric, and it was a little disappointing. There wasn't much exposition about what green fabric means -- none, really -- and mostly the designers were complaining about ugly fabric. The gimmick was that the models did the fabric shopping, so I'm not sure what their choices were. Then there was a lot of talk about "organic silk" -- there are various silks that fall into the sustainable/green fabric category, but for silk to be organic, the worms would have to have access to outdoors, so we'd have to be starting with some kind of wild or muga silk, and then the mulberry trees or other leaves upon which they feed would have to be certified organic. The wonderful Organic Clothing blog has a good article about environmental and ethical issues in silk production, and I wrote about silk in this post in January.
double-layer Amity Peace Silk from Near Sea Naturals
In short, calling the silk they used "organic" was probably inaccurate though they may have been using some beautiful wild silks or peace silks where the silkworms are not killed. I was disappointed that they weren't more clear about the fabrics they were using and describing them appropriately. One designer (who won the challenge) was using tulle; I haven't seen anything I'd call sustainable tulle, though it's possible it's out there, and if so I would have loved to hear about it. Only one designer seemed to have some understanding about dyes and chemicals used in textile processing and their impact on the environment, and there was no talk about fair trade or labor issues.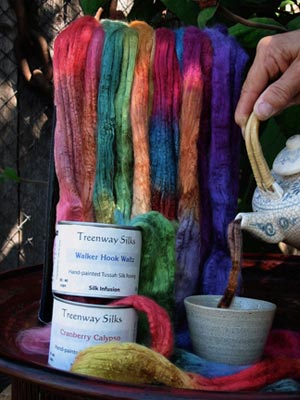 handpainted tussah silk rovings from Treenway Silks
There were none of the really beautiful and fun organic cotton prints, either. In all, I think they missed an opportunity to do something really cool and informative, and instead of Natalie Portman, maybe a judge from the EarthPledge Future Fashion project or a designer who's really committed and knowledgeable in this area would have been better. Some kind of "refashioning" challenge might suit their format best, and I think they've done those before, where the contestants use the clothes that another designer is wearing to create something new.
Now, a few more inspirational links, otherwise known as Lainie's Work Avoidance Project:
Readers know I'm a huge fan of Selvedge magazine, and not just for the gorgeous photos and articles -- the ads are a fertile launching pad for links to designers, suppliers, galleries and publishers. I discovered that these ads are also online at the magazine site, and you can just click through to the advertiser's sites. I think you have to register and get a password to access the site.
Thanks to Sharon B's fantastic journey through the alphabet of fiber blogs, I visited this lovely blog by Brazilian textile and mixed media artist Gaby, which led me to the site of a Brazilian fashion designer named Isabela Capeto (the site has an English version). It's a very fun site; click on the Collections tab to see her clothes (or click on the Press tab for thumbnail views) for some inspiration or just to enjoy their beauty and femininity. She uses all kinds of hand stitching and collage techniques. These are beautiful, romantic and modern clothes, with liberal use of sequins and references to many multicultural textile traditions.